Principal's Desk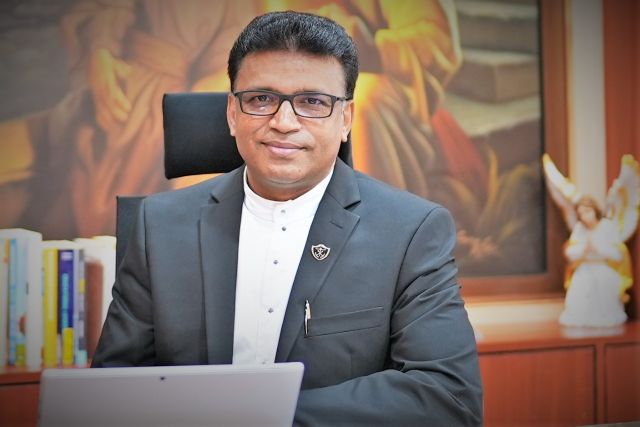 Welcome to our website! Our website can answer most preliminary questions about our school, academic and non-academic programs, and student life.

Holy Cross Education: The best academic education in the world will not benefit society if we simultaneously do not form virtuous habits with intellectual virtues. Blessed Basil Moreau, the founder of the Congregation of Holy Cross, insisted on the education of the Heart and Mind . He said education of the mind should not be at the expense of the heart. He further asserted, "We should not deprive our students of anything they need" to grow to maturity. For him, the heart was not the seat of sentiment but the seat for discerning good over evil. Hence, Father Moreau demanded that Holy Cross institutions use the best pedagogical methods available to meet students' individual needs. The school has completed 50 Golden years of its journey with the motto, "Truth Shall Set You Free." These past fifty years, we tried to live up to the expectation of our founder and will continue the same.

At Holy Cross,we strive to uphold high standards with an absolute commitment to understanding and improving educational processes using team strategies and state-of-the-art facilities. Our goal is to provide our students with the best possible opportunities to become confident, considerate, and flourishing citizens who demonstrate resilience and determination to succeed. We focus on fostering a high standard of education for our children and an environment that is nurturing and committed to a strong sense of community. We have designed our school to be accessible and challenging for all students, irrespective of their ability and background.

I am honored to be able to captain this prestigious Holy Cross School Agartala. I hope that the educational journey at Holy Cross for all our stakeholders will be a happy and wonderful experience. God Bless!

Rev. Jilson Tom

Principal, Holy Cross School Agartala.